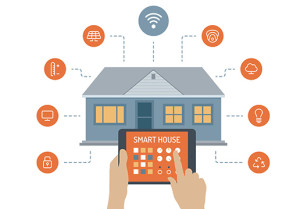 SGC Homes is committed to incorporating technology that makes living easier and less expensive for you and your family.  We are consistently adding products to bring you a Smart Home that helps save you time and energy.
In this "connected" time, homeowners are spending 1,000s and 1,000s of dollars to make their homes "Smart" after they've lived in it.  By then it's an after thought and many of the products don't work well together.  We've taken a conscious approach to incorporating technology during the construction of your home so the day you move in you are up and running.
Every Custom home comes with a Smart Package that will allow you to control the following from one app on your Phone, Tablet, or computer:
In addition we include 2 USB Outlets in places where you would normally charge your smart phone and a NEMA 14-50 Outlet in your garage for electric and Hybrid Vehicles.